MSBOA District Band and Orchestra Festival
Volunteer Opportunities - BAND FESTIVAL (2015)
CONCESSIONS and JUDGES' & DIRECTORS' LOUNGE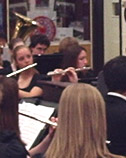 The Pioneer Bands and PBA will host the District XII Band Festival at Pioneer High School at Schreiber Auditorium on Saturday, February 28, 2015, and we need you to help make this event a success. There are places for everyone to be part of the event, whether you like to help at concessions, donate prepared food for the judges or loan us items to use. Shifts at the school are typically two hours, but there are even spots to help if you are going to be unavailable that day!
Volunteer Opportunities
We'd like to ask the PBA parents to volunteer to help run the concession stand during Festival. Most of our customers are Ann Arbor residents, so we provide morning snacks, water and hot drinks. The profit will go to benefit Pioneer Band activities.
PBA proudly hosts the festival judges and band directors; our goal is to make them feel appreciated and welcome by providing breakfast and a classy lunch for these important guests. Please help us provide a home-cooked lunch. Please click on this link to sign up to help.
To volunteer (It's really easy, and we really do need your help!):
Visit the Band Festival Volunteer Spreadsheet
There are three tabs at the bottom of the sheet. Choose the tab that matches your interest.
Look to the right side: the Concert Band and Symphony Band schedule is there so that you do not volunteer when your child is playing.
Fill in your name and email address.
Click save and you are done!
Let's make this event a very special, successful and fun day! We'll be counting on your support and we'd like to thank in advance all the great helping hands of PBA parents!
If you have any questions about Band Festival Concessions, please feel free to contact one of our Band Festival Committee members.
Thank you!
Barb Paternoster and David Schreiber
2015 Festival

2015 District XII Band Festival is Saturday 28 February at Pioneer H.S.