Associate Director of Bands, 1992–2017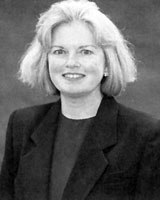 Nancy Waring was the first ever Associate Director of Bands, and she worked with the bands at Pioneer High School from 1992-2017. She helped to produce the high level of performances for which the bands are known at music festivals and performances here in Michigan as well as Orlando, Chicago, Boston, New York, Virginia Beach, Myrtle Beach, Toronto, Orlando, Europe and Beijing and Tianjin, China.
During her tenure the Pioneer Music Department was honored by the Grammy Foundation as The National GRAMMY Signature School, the most outstanding high school music department in the nation in 2006 and 2011. Pioneer was the first music department to ever receive this award two times. The department was also awarded Grammy Gold Signature School awards, one of the top seven high school music departments, in 2004 and 2005, and Grammy Signature School awards, one of the top fifty high school music departments, in 2002 and 2003.
Ms. Waring is included in the ninth edition of Who's Who Among America's Teachers, a listing of the best teachers in America selected by their students.
Ms. Waring's teachers include Roy Ernst, Larry Teal, Joseph Mariano, Keith Bryan, and Elizabeth A. H. Green. Ms. Waring was a flutist for two years in the U of M Symphony Band, under the direction of William D. Revelli. She is a graduate of The University of Michigan School of Music where she received a Bachelor of Music degree in Music Education (1971) and a Master of Music degree in Flute Performance (1972). She has performed as principal flutist and soloist with several orchestras in southeast Michigan. Before her appointment at Pioneer High School she was substitute flutist with the Detroit Symphony Orchestra. At present she freelances when time permits.
Ms. Waring has taught flute on the faculties of the University of Toledo and the Interlochen Arts Academy. She has maintained a private flute studio in the Ann Arbor area for over thirty years. Ms. Waring also wrote the proposal for, developed the course structure and content for, and teaches the Music Theory and Technology course at Pioneer High School.