Robert S. Albritton Music Award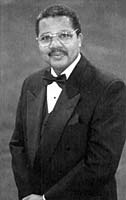 Robert Albritton was the director of the Pioneer Bands for twenty years (1982 – 2002). During those twenty years he went above and beyond the expectations of a regular band director. Robert Albritton consistently showed great dedication and commitment towards the Pioneer Band program and, as a result, during his tenure the Pioneer Bands were recognized on a state level, a national level and an international level. He was one the few teachers who worked year round without complaint. He demanded excellence from all of his band students, creating a focused and determined group of students.
In honor of Robert Albritton's twenty years of service to the Pioneer High School Bands, the Robert Albritton Music Award was instituted in 2002. This award is given on a rotating basis annually by the Pioneer High School Music Department to a senior music student in the Pioneer bands, orchestras, or choirs. This student, elected by his/her peers, will have demonstrated those qualities exemplified by Robert Albritton: dedication, commitment, hard work, and excellence in the Pioneer music program.
We are proud of our past winners of the Robert S. Albritton Music Award:
| | | |
| --- | --- | --- |
| 2014 | Elliot Polot | Band |
| 2013 | Gabriel Novak | Choir |
| 2012 | Nathan Carrillo | Orchestra |
| 2011 | Alex Baum | Band |
| 2010 | Timothy VanRiper | Choir |
| 2009 | Jessica Zhang | Orchestra |
| 2008 | Sean Beck | Band |
| 2007 | John Strader | Choir |
| 2006 | Elizabeth Beilman | Orchestra |
| 2005 | Kaoru Matsushita | Band |
| 2004 | Richard Lawrence | Choir |
| 2003 | Karis Sampson | Orchestra |
| 2002 | Jihan Rush | Band |