The Patrick S. Gilmore Award, named for the American bandleader of the Civil War, it is presented annually to the runner-up to the Sousa Award.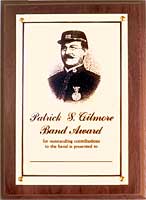 We are proud of all of our past winners of the Patrick S. Gilmore Award:
2016 Nathan Ng
2015
2014 Anna Hayman
2013 Rennie Cotner
2012 Kevin Flannagan
2011 James Campbell
2010 Ryan King
2009 Jeff Johnson | Dana Wilson
2008 Amanda Burnside
2007 Mark Phillips
2006 Andrew Koeppe
2005 Kathryn Johnson | Kaoru Matsushita
2004 Angelina Hurst
2003 Stephen Shantz
2001 Kirk Burkhart | Andrew Custer
2000 Evan Lowe | Peter Rush
1999 Jonathan French | Jared Twining
1998 Doo Sik Chin | Nicholas Danne
1997 Ronald Ampey II
1996 Benjamin Burney | Diana Jan
1995 Eric Brubaker | James Miller | Helene Steck
1994 Martin McDonald
1993 Rachel Rabkin
---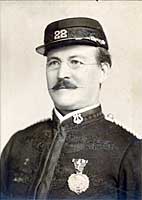 Patrick Sarsfield Gilmore (1829-1892) was a leading figure in nineteenth-century American music. As band leader and composer, he performed at inaugurations, festivals, the country's centennial celebrations, and the dedication of the Statue of Liberty. Among his legacies are the Boston Pops Orchestra, Madison Square Garden, New Years in Times Square, and numerous patriotic songs.