Since 1954 thousands of high schools have honored their top band students with the John Philip Sousa Award. The pinnacle of achievement in a high school band program, the Sousa Award recognizes outstanding dedication and superior musicianship. The award has become a nationwide symbol of excellence in musical achievement.
Here at Pioneer, we honor our most deserving band member each year by presenting him or her with the John Philip Sousa Award. We, too, believe that the Sousa Award recognizes superior musicianship, leadership, dependability, loyalty, and cooperation- the qualities directors strive to develop in all students.
We are proud of these outstanding students:
2016 Nathan Heed
2015 Ellen Sauer
2014 Elliot Polot
2013 Jesse Lemons
2012 Kevin Zhang
2011 Carly Renner
2010 Meekyoung Lee
2009 Skye Hookham
2008 Samu Rast
2007 Allie Simpson
2006 Mackenzie Slottow
2005 Anthony Smith
2004 Carl Engelke
2003 Dean Baxtresser
2002 Yuka Shiragaki
2001 Damian Kim
2000 Matthew Leavitt
1999 Leigh Murnane
1998 Drew Leslie
1997 Elliott Ross
1996 Robert Fiegal-Stickles
1995 Jonah Weiskopf
1994 Josh Feigelson
1993 Colin Stetson
1992 Michael Park
1991 Matt Tropman
1990 David Singer
1989 David Meretta
1988 Jared Throneberry
1987 Cindy Andress
1986 R. Eric Bennett
1985 Mark Clague
1984 David Martel
1983 Julie Matthews
1982 John Krienke
1981 Krista Kauper
1980 Scott McElroy
1979 Beth Stoner
1978 Nancy Plant
1977 Joanna Bassett
1976 Jon Hildebrandt
1975 David Enos
1974 Eric Becher
1970 Gordon Stout
1969 John DeLancey
1968 Jay DeVries
1967 Douglas Munra
1966 Jeff Doane
1965 Nick Van Der Schalie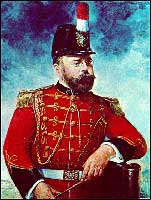 John Philip Sousa (1854–1932) was the longtime director of The President's Own Marine Band, and a prolific composer and arranger. He championed the cause of music education, received several honorary degrees, and fought for composers' rights.