Band Camp Sunday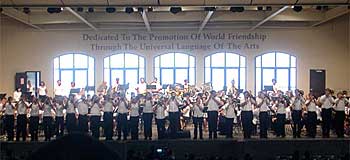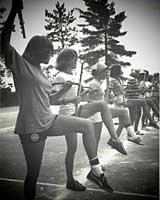 Band Camp Sunday: What a great reason for a day trip, a weekend getaway, or an extension of your other vacation plans! You can make it up and back in a day or plan to camp at Interlochen State Park right across the street. Many Pioneer families arrange for overnight accommodations at nearby motels, cottages, or bed & breakfasts. Traverse City is just a short jaunt up the road.
The Pioneer Band Association offers a popular charter bus to Interlochen. Or, you can drive yourself; here are some helpful driving directions. You'll find plenty of parking right by the beautiful main campus.
Stroll over to the gift and snack shop (if you're lucky, the Melody Freeze will be open for business!). Walk down the main hall of the first building to see the many display cases filled with both current and historic photographs and stories of Interlochen.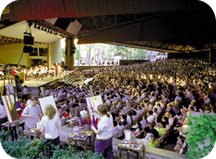 The Interlochen Center for the Arts is the home of the world renowned Interlochen Arts Camp (formerly known as the National Music Camp). It is the premiere music camp in the country, co-founded by a former band director at Ann Arbor High School, Joseph Maddy. The Pioneer bands were the first high school to have a "band camp" back in 1948 and have been privileged to return every year since. More information about Interlochen can be found at http://www.interlochen.org
Step over to the Pioneer Band Association's Welcome Table just outside Kresge Auditorium. There will be copies of the PBA Notes Welcome Issue, describing the Pioneer Band Program and the great year ahead! The Sunday afternoon concert starts at 1:30 p.m. performed by the bands and choirs from Pioneer, Huron and Skyline in the open air Kresge Auditorium. This is followed by a Pioneer marching demonstration on the tennis courts back in the camp. Parents and guests see what our band students have been drilling all week long in preparation for marching season. It's a worth the trip to hear how accomplished the students are after a few short days or rehearsal and drills.
A special Band Camp Sunday Guide is available to help new families make the most of this special day.

2015 Band Camp Sunday is August 16, 2015